About Dr. Wodicka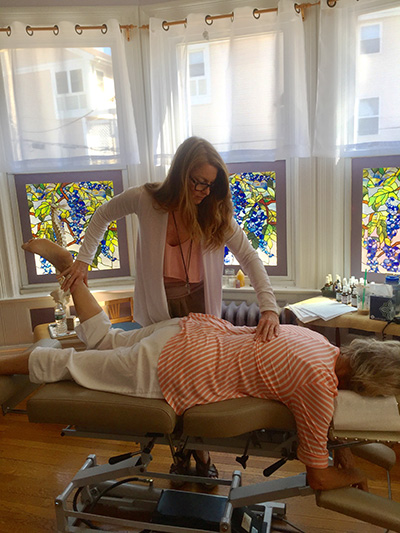 Dr. Wodicka is a life-long resident of Rockland County. Her interest in health and athletics initially led her to train as a massage therapist. Building on the skills she learned through years of bodywork, she went on to earn her chiropractic degree from University of Western States in Portland, Oregon. In addition, she received certification in NIMMO, the basis for modern trigger point therapy.
Upon returning to Rockland County, she opened her own chiropractic office emphasizing manual trigger-point therapy, traditional chiropractic, athletic training, and nutrition/detoxification programs. After giving birth to her second daughter, she became progressively ill with multiple allergic sensitivities and could only tolerate a very limited diet of rice, pork, and lettuce. After trying a number of modalities without success, Dr. Wodicka achieved a dramatic recovery from her allergies and a return to health only through Nambudripad's Allergy Elimination Techniques (NAET). Because of her own experience, Dr. Wodicka has trained and continues her education in this technique to share it's incredible potential to heal with her patients.
Dr. Wodicka is an avid athlete and encourages all of her patients to maintain a healthy lifestyle through proper nutrition and exercise. She has been practicing Bikram Hot Yoga for over 15 years. Well versed in athletics by her father who competed in over 50 marathons, she has completed five marathons and has competed in numerous bi- and triathlons as well. Dr. Wodicka is proud that the annual half marathon held at Rockland Lake is named after her father, George Wodicka.
The goal of Dr. Wodicka's work is to allow each patient to achieve a life with mind, body, and spirit in harmony and to free them of the energetic blockages that so often cause their illness and pain.
Affiliated with the American Chiropractic Association
Certified in Neuro Emotional Technique
1998 International Ironman Triathlon, Hawaii, Treating Chiropractor
1999 Y-Athlon, Treating Chiropractor
1999 Rockland Road Runners Advisory Committee
Columnist for The Runaround, bimonthly publication of Rockland Road Runners
Certified in Biodynamic Farming
Certified by the American Dowsing Association
Completed twelve 10-day Vipassana meditation retreats
Associate with Naet.(advanced training) Since 2005.
Who's who recipient Top Doctor 2018 for hard work, dedication and contribution to the medical profession.
Member of the Holistic Chamber of Commerce.
Dr. Wodicka's post graduate training has been in acupuncture, kinesiology, psychology, homeopathy and nutrition. So now she integrates those practices. She has been in practice for over 20 years.