I am very excited to announce my office for Little Waters Wellness. It is located at 66 N Broadway #9, in Nyack.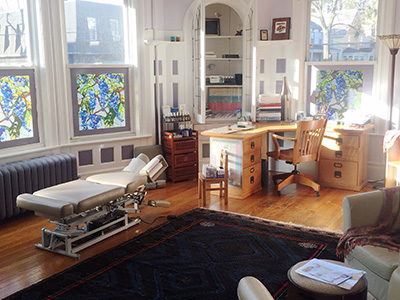 The location is on the corner of First Ave and Broadway, right down the street from the Runcible Spoon coffee shop. The office is in the back of the building. There is parking along the streets and one spot in the rear (far right of the garage if available).
I was attracted to this space because it was very familiar and special to me having been rented for the past 18 years by my midwife, who helped birth my daughter Holly. So when I walked in it felt like home. The office has two large rooms with one waiting room and a sun filled treatment room. Both of which are currently being freshly painted with some nice colors to spruce it up! There will be some new toys and more space for the children to play in, and more room for patients who want privacy.
I will continue to offer all the services I currently do including Manual adjusting, Thumper adjusting (good for children) Muscle testing, Net, Naet, Quantum Neurology, Manual trigger point therapy, Detoxification programs and Weight loss. I am also offering an additional option for straight chiropractic care, including family and individual discounts.
Ashley Rappaport-Cho C.H.H.C., C.G.P., is excited to assist me with my practice in my recent decision to relocate and build her practice to be more accessible at 66 N. Broadway #9, Nyack, NY 10960. My N.E.T. and N.A.E.T. methods helped Ashley overcome several challenges that caused needless stress. The methods are gentle, inviting and effective where conventional medicine fails.
Ashley's passion is to work with clients' common misconception of what is healthy and acceptable among today's conflicting flood of information regarding true health in mind, body and soul. She does this by exploring all facets of her clients' lives in their journey to achieve the balanced self. Incorporating dynamic strategies such as promoting simple recipes using whole foods, light to moderate therapeutic body work and outdoor activities to her sessions, provides an immediate reward to clients and creates a high chance of success. She also provides sessions dealing with high stress elements such as budgeting and 'cooking clean' to promote healthy yet easy habits. She truly is an inspiration to re-organize and re-prioritize your health.
My hours will be Mondays and Wednesdays from 2:30 to 7:00, and Fridays from 9-3. I will also be available for phone consults.
Also, there's a little story behind the name Little Waters Wellness. First, the name Wodicka had a meaning in its Slavic country which is Little Waters. Next, I sold my little waters cottage in Vermont and wanted to hold onto the name so the timing was perfect to switch over to my practice. Finally, Little Waters Wellness also feels right because we are in the heart of Nyack where we are so close to the Hudson River with its beautiful waters.
Looking forward to seeing everyone in the new space and hope to also see some of my old friends and patients who have been away for a while. So come and get your body mind and spirit adjusted for the New Year! Consider liking my Facebook page to see any news related to the new office.